what i remember about grandma...
my grandma shank is dying.
now. as i type.
we pray she could die more quickly, than slowly.
what a not fun process this death thing can be.
she has had dementia for awhile now...
i did get to visit her a couple weeks ago.

why didn't i visit her more?
i should have.


she did not know me.
there was a haze or fog in her eyes.
that is sooo hard to see...
it's like nothing clicks.
nothing is there.
no memory.
no recollection.
nothing.
in fact. her last words to me were, "thanks for making yourself known."
it's hard.
dementia.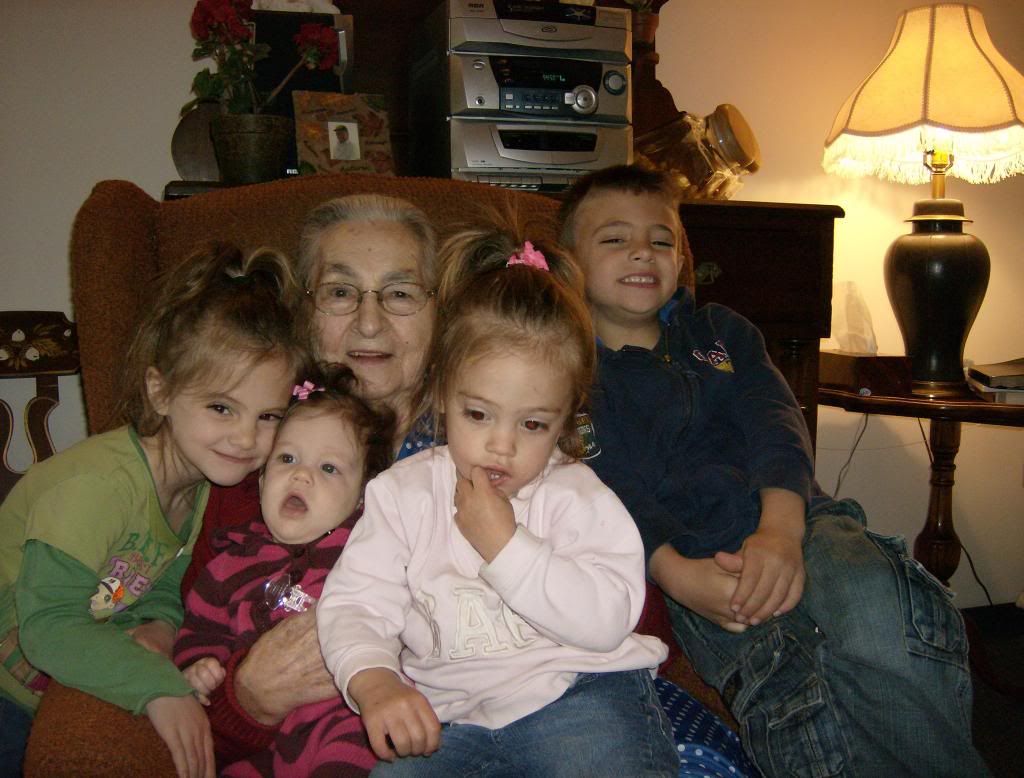 [grandma with kaycee, calli, campbell and kaden, in her room, in skilled care at fairmount homes, 2010)
so, instead of being outside in the beautiful sunshine today
.
although i pray...and speak...
"go run to Jesus grandma...this is a beautiful day to meet Jesus.
it's okay. go meet him."


i came inside to pen some thoughts down.
what i remember about grandma...
her name was edna arlene hess shank.
she was my mom's mom.
she had a ton of brothers and sisters.
like. way more than the 3 i had.
and something about each of them, reminded me of my grandma. :)
she was a hard worker.
she was diligent. determined.
i remember gathering eggs with her in the chicken house, when i was a little girl.
and the big egg cooler. i still remember the handle on the door. :)


she cooked a lot.
chicken noodle soup.
saltines.
humming or singing.
humming or singing while she worked, while she cooked, and while she ironed.
her ironing.
i still can't iron quite like grandma. :)
or mend for that matter.
And lots of pepsi.
but i guess that was mostly for pappy.
angel food cake.
her angel food cake was *the best*
we had always hoped to get her to teach us how to make it...
we really should have taken the time to learn. :(
her and pappy's cars. oldsmobiles, maybe?
several of them.
they all had that squishy velvety upolstered backseat
wdac was on the radio all the time.
maybe that is where i get it??
lets say so. :)

and church.
we never got to go much with grandma and pappy, but when we did...
i remember the men sat on one side.
and the ladies on the other.
i was so glad i was a little girl, and got to sit beside grandma. :)


feeding whomever walked in the door.
and bread on the bread plate. she always had bread on the bread plate.
chicken pot pie.
she hauled amish in her later years.
she always had something to say. she talked a lot. :)
and talked loudly at that.
her porch swing.
her love of matlock, magnum p.i. and little house on the prairie.
flowers. she loved to pinch off the old geraniums, pansies or petunia blossoms.
she wore aprons.
and a covering.
her hair was loooonnngggg. (or that's how i remember it as a little girl).
she quoted scripture from the Bible.
she carried a hankie.


she carried purses with that little golden hook closure.
she could whisk really fast.
she was a fighter.
she had more than her fair share of joint replacements.
she always said, "you're lookin' good, missy."
i can still hear her making the funny sound she made,
when she would bend down to pick up one of my babies...
i have 5...


"oh benny", she would say.
she was up early.
i don't remember what time she went to bed?
although i do remember an occassional nap on the sofa was not out of the question. :)
awwww. so i am beyond blessed with my heritage.
i am blessed to be able to be called her granddaughter.
my life is better because i knew her. because she was my grandma.
will always have fond memories of her.
xoxo.
"run to Jesus grandma. run to Jesus..."
[i did get to tell grandma that tonight.
i got to hug her and kiss her and tell her how pretty she was...
what a fabulous lady she was. a good grandma.]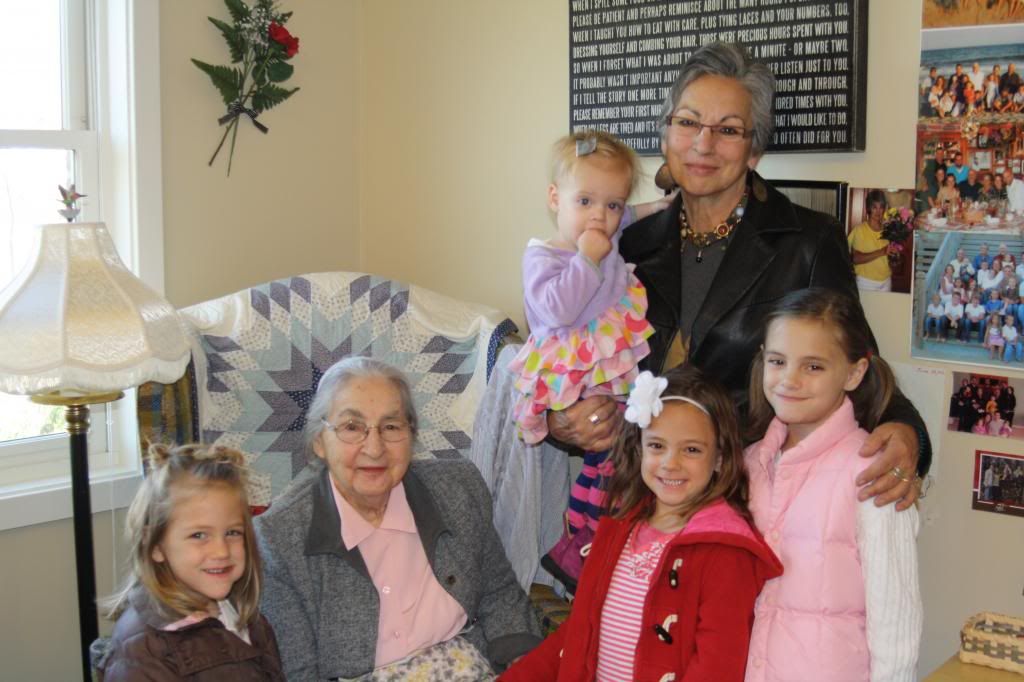 [calli, grandma, my mom holding karolina, campbell and kaycee, in grandma's room,
in the demetia unit, at fairmount homes, 2012]
[i think this is the most recent picture we have with her...
Pappy and grandma lived on a poultry and tabacco farm for many, many years,
then a ranch house overlooking their farm...
where we got to drive around some green john deere 4 wheeled kind of vehicle...
then four years after pappy died,
my grandma moved to fairmount homes,
where she lived for 7 1/2 years.
Grandma lived in an apartment,
and then, was moved to a personal care room, and then,
when she got dementia,
moved into the Heartwood unit, where they cared for her
with such dignity and grace.]
my kids don't remember much about grandma.
campbell, 6, said, "she never remembered us mom,
she hardly remembered you."
i laughed. "oh sweetie", i said, "that was after grandma got sick with dementia.
she used to always remember mommy.
just like your grandma's remember you."
she remembered i married "matt king"
and she always came to see you, when you were babies.
she always asked about the chickens and the steers that we had. :)
i liked that.
i am a farmer's wife, just like your great grandma.
she would come and help with corn.
fresh corn from the garden,
to cut off from the cobs, and pack away in the freezer.
she always gave the kids candy, in old prescription medicine containers.
it is a riot, now that i think about it...
and once she moved into her apartment,
grandma had a laundry basket of toys,
she kept up in her bedroom closet.
she would walk us down the hallway,
holding onto the banister with each step...
she would stand out on the porch and smile and wave goodbye.
the memories are fond. grandma.
you will be forever missed and loved.