we are HOME.
i am very weary.
and will not take the time to write or post much now.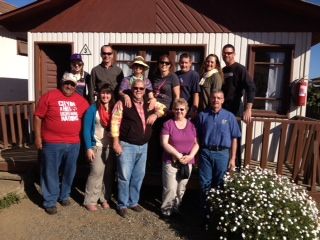 (our IMPACT team: back. L to R. Emily Blank, Bill Blank, Judy King, Diane Umble, Bill Umble, me, Matt.
front. L to R. Emillio- chilean pastor who ran our project, Kim Mast, Aldie King, Janet Umble, Ivan Umble.)
we left Pichilemu, Chile yesterday at 11:30 a.m.
to head towards Santiago for some shopping and lunch.
(a 5 hour drive)
Arrived at the airport at 7 p.m.
Left on our flight at 10 p.m. and were connecting and flying until our arrival in Philly
at 11:30 a.m. this morning.
thank you all for your prayers.
whether you called, texted, e-mailed, or wrote.
i cried. :)
i was a mess.
but was much better once i got out of here.
the time went quickly for us and the kids.
i don't know about the babysitter. :)
good.night.